April is almost over and here I am with my March empties!! I've got to catch up: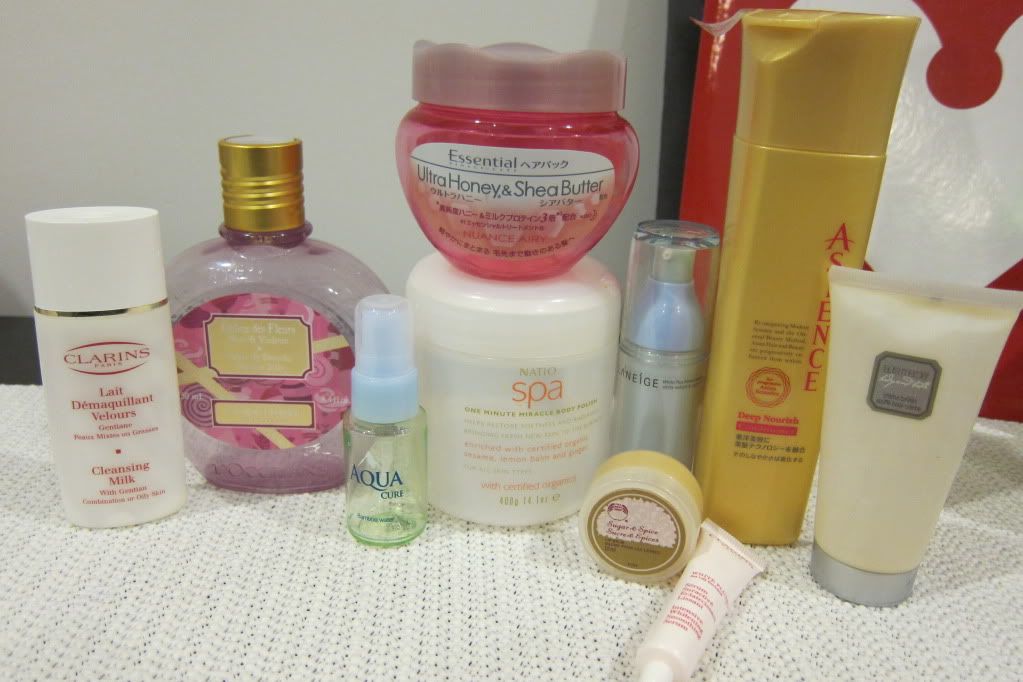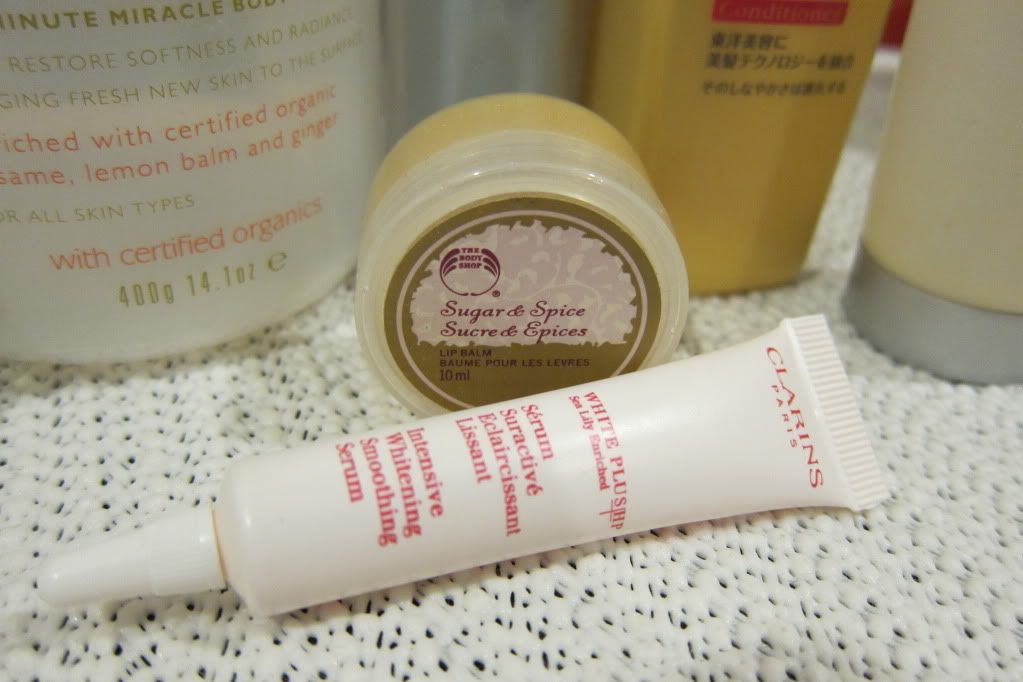 1. CLARINS
Cleansing Milk with Gentian
,
50ml (trial size)
My mother has used this product for many many years and I used to think milk cleansers could not clean my skin thoroughly but boy was I wrong. This actually
works VERY well for me
, even with a face of primer, foundation and powder. It's all in the technique. Milk cleansers are
more gentle on the skin and I find my face more supple as well
.
Repurchase?
Already did!
2. L'OCCITANE Rose & Violette Shower Jelly, 250ml (Limited Edition)
Smells lovely!
I like anything which is Violet scented (Guerlain products are always tinged with a violet scent). My sister handed me this half-full, the
texture is really jelly-like
, jiggly and somewhat firm, but that's all there is to it. I would've liked for it to be slightly more moisturizing, but the scent is lovely and leaves my bathroom smelling nice.
Repurchase?
Maybe, but only for the scent.
3. ETUDE HOUSE Aqua Cure Bamboo Mist, 30ml (trial size)
This facial mist is formulated with Alaskan Glacial Mineral Water to supply cooling moisture and essential skin nourishment. As I may have mentioned, I don't really see a big difference when I use facial mists but I still use them cause I like the mist of cool air on my face.
Repurchase?
No, there are others to try out.
4. ESSENTIEL
Ultra Honey & Shea Butter Hair Mask
, 200g
3 words: Best. Hair-mask. Ever!
Have stocked up on these from Sasa.com, I first tried them when I was in Singapore;
cheap, smells awesome and leaves my ends really soft
! I have tried my fair share of hair-masks (Ojon, Terax, baby oil, Kerastase, Wella..) and this is seriously a steal.
LOVE!!
Repurchase?
Most definitely!
5. NATIO One Minute Miracle Body Polish, 400g
A salt-based natural body scrub which is
enriched with certified organic sesame, lemon balm and ginger
. I like the scent, but the texture not so. This scrub has to be stirred prior to use as a layer of essential oil sits above it.
It left my skin soft but there was also a oily residue.
I didn't like it very much and it took me forever to finish this. I ended up mixing some lavender body wash into it and used it that way.
Repurchase?
No.
6. LANEIGE
White Plus Renew Eye Serum
,
20ml
This is actually my 3rd bottle of this product, it comes with a 4-pc eye mask. I think it is a
great product for sensitive eyes
, it did not sting nor irritate my eyes in any way. I found it to brighten up my eye area as well.
Repurchase?
No, I have outgrown this brand.
7. THE BODY SHOP Sugar & Spice Lip Balm, 10ml
This balm was
sitting around for 8 good years
before I tore open the plastic seal. Swiped it once and threw it out; it didn't smell rancid but I just felt gross putting it on. It was left unopened for so long because I frequently buy balms and I guess it just disappeared under the mini hill.
Repurchase?
No.
8. CLARINS
White Plus HP Intensive Whitening Smoothing Serum
, 30ml (trial size)
Received this a few months ago in their trial sets given out during the re-launch of their whitening range. I am currently out of a day/night serum but I am refraining from buying any until I get through my serum samples. This lasted me for 2 weeks at least and
I like it very much
. Their improved formula is much better than the older one. It worked very well with the rest of the products I was using,
no break-outs and my skin was definitely smoother
.
Repurchase?
Yes.
9. ASIENCE
Inner Rich Conditioner
, 220ml
I used to LOVE the Asience range, before I discovered my new favourite mask. If your hair isn't very damaged this would be great for you. It
contains Royal Jelly Extract
to leave your hair supple and soft.
Repurchase?
No, these days I use a hair mask in place of conditioner.
10. LAURA MERCIER Creme Brulee Hand Creme, 50g
This smells yummy enough to eat but not sickeningly so! I
really love this, it leaves my hands smelling like caramel and vanilla; plus the scent really lasts
.
Repurchase?
Yes, when I have the extra $$.
11. 12. 13. 14. Mascaras- Lash Expander XL, Re'Ason, Majolica Majorca
They ALL worked well on my poker straight lashes, it's a pity I had to throw them out because I rarely use mascara and they have turned gloopy on me. The Re'Ason one is the best- a friend got it for me in Taiwan but I can't seem to find anything about it online.
Repurchase?
No. I always forget to use mascara.
Total products emptied: 9
Thrown out: 5
Total: 14
Total Feb-Mar: 21