This post is going to be picture heavy!
The Hello Kitty Sweets Cafe in Taipei, Taiwan is so awesome that it needs a separate post from my whole Taiwan trip (which I still have not gotten around to post :/). I did research prior to leaving and I am so glad we made time to have lunch here.


Tummy rumbling after the Flora Expo..
We're here!!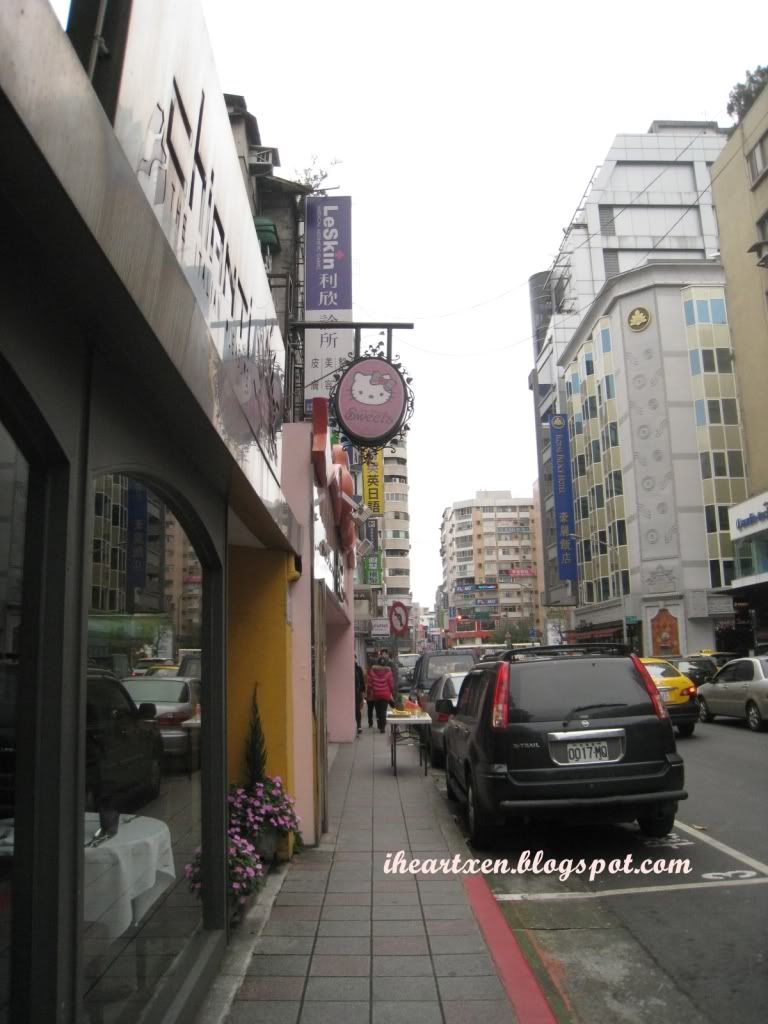 We see Kitty!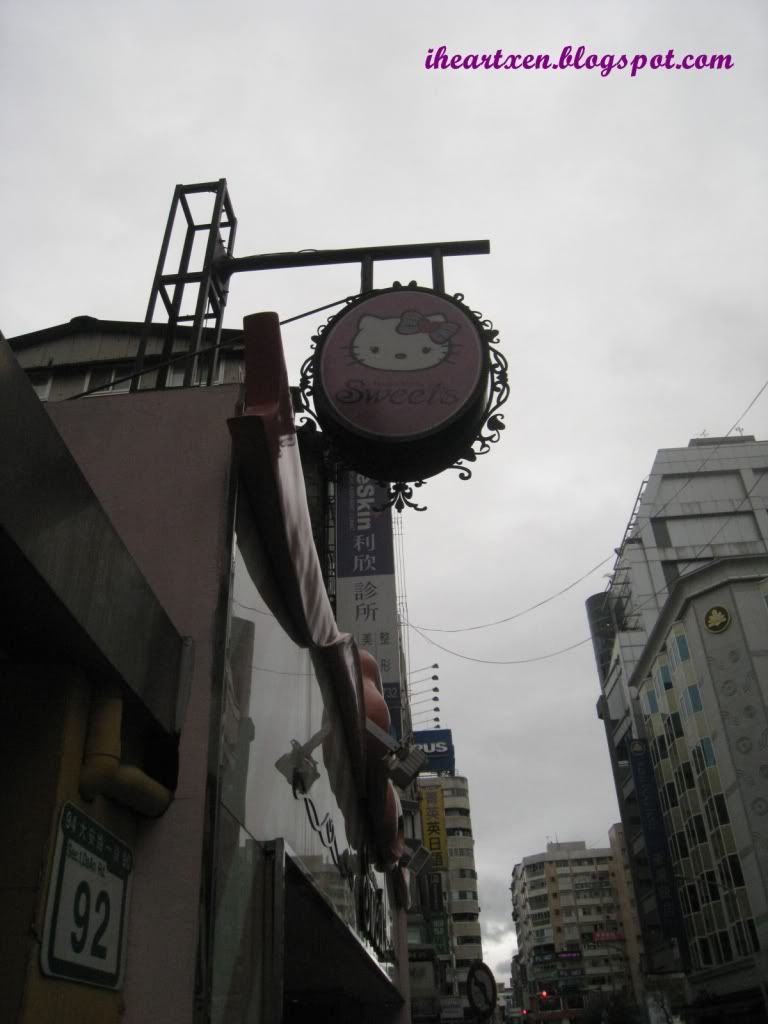 No. 90, Da An Road, Section 1, Taipei City.

If you don't speak a word of Mandarin, you can request for your hotel's receptionist to write it down for you and you could pass that to the cab driver. If you need landmarks, it is very close to the SOGO Department Store. Cabs in Taiwan are generally safe and they don't go around ripping tourists off. If they stop for you, they'll most definitely take you wherever you want to go. And they don't try to take a longer route either!
Digressing a little, on our way back to the hotel, our cabbie misread the hotel address and thus went through a bit of traffic before he finally dropped us off. We were expecting to pay the extra (just a couple of dollars) but he was so honest that he gave us a discount off the meter price! We were tourists and we didn't even try to haggle with him. But of course no good deed goes unnoticed, Papa gave him extra and told him to keep the change. The look on his face was priceless. The world needs more people like the cabbie driver. Okay, back to the post..

From what I gathered online, most people suggested to make reservations but me being a risk taker (read: lazy) and thinking that it was a weekday (Friday), I decided against calling up as we were going for an early lunch. We arrived a little before 12pm and the tables downstairs were already starting to fill up.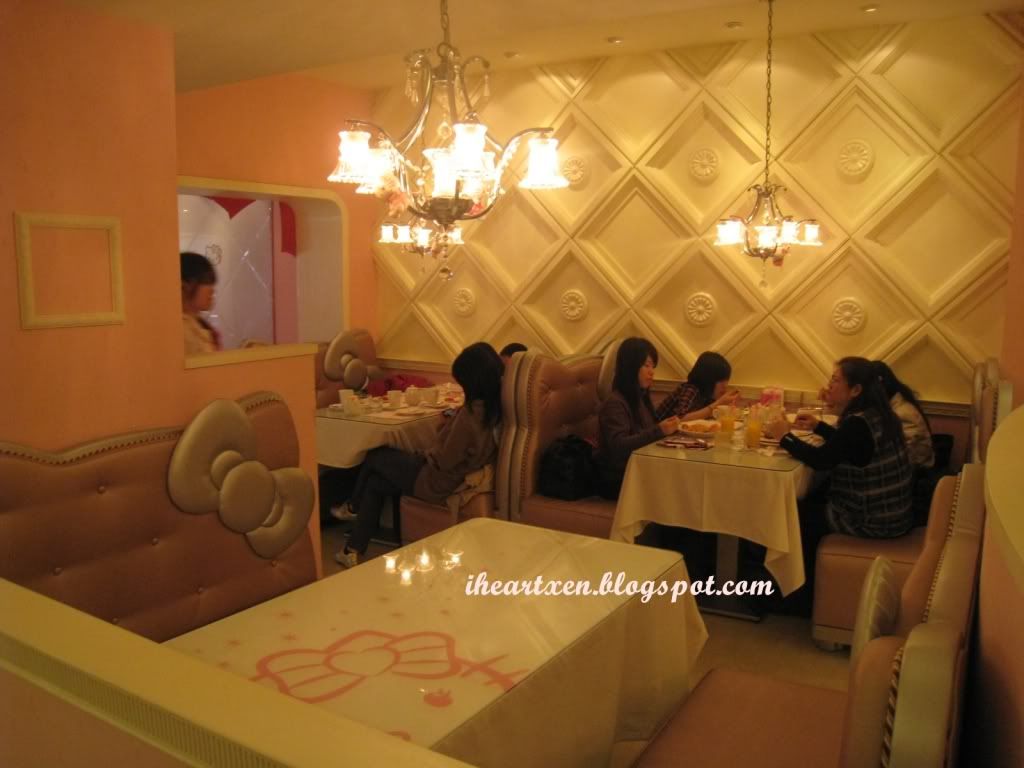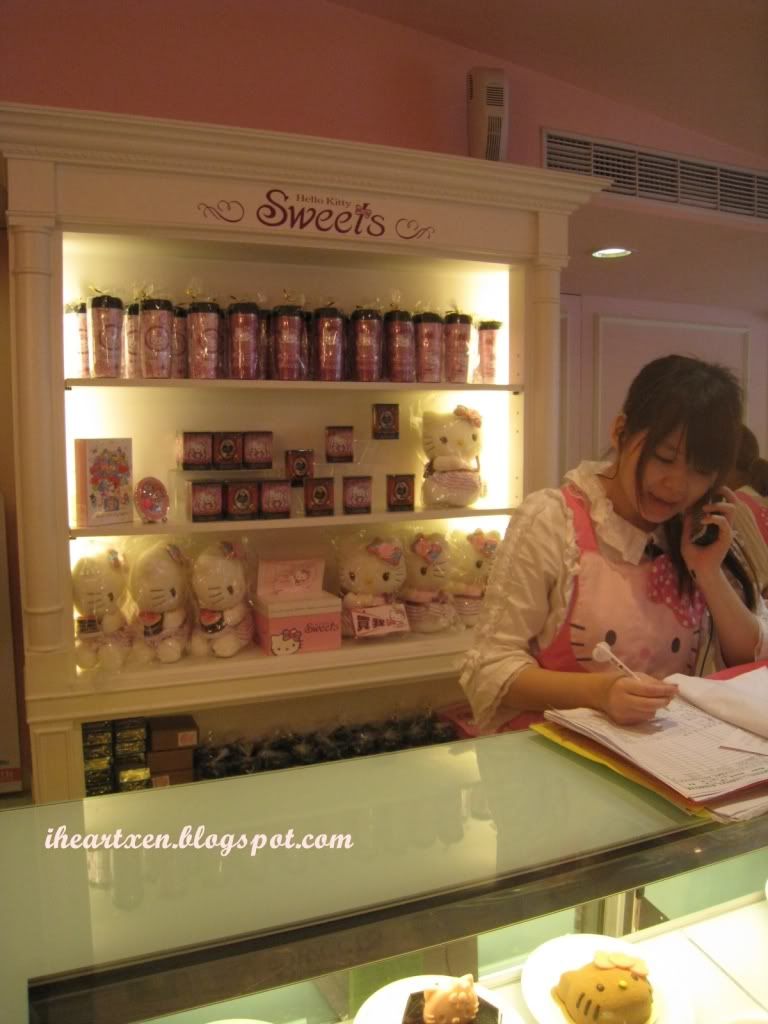 Busy waitress taking reservations, behind her are Limited
Edition merchandise only available for sale at this Cafe
Pretty cakes being made..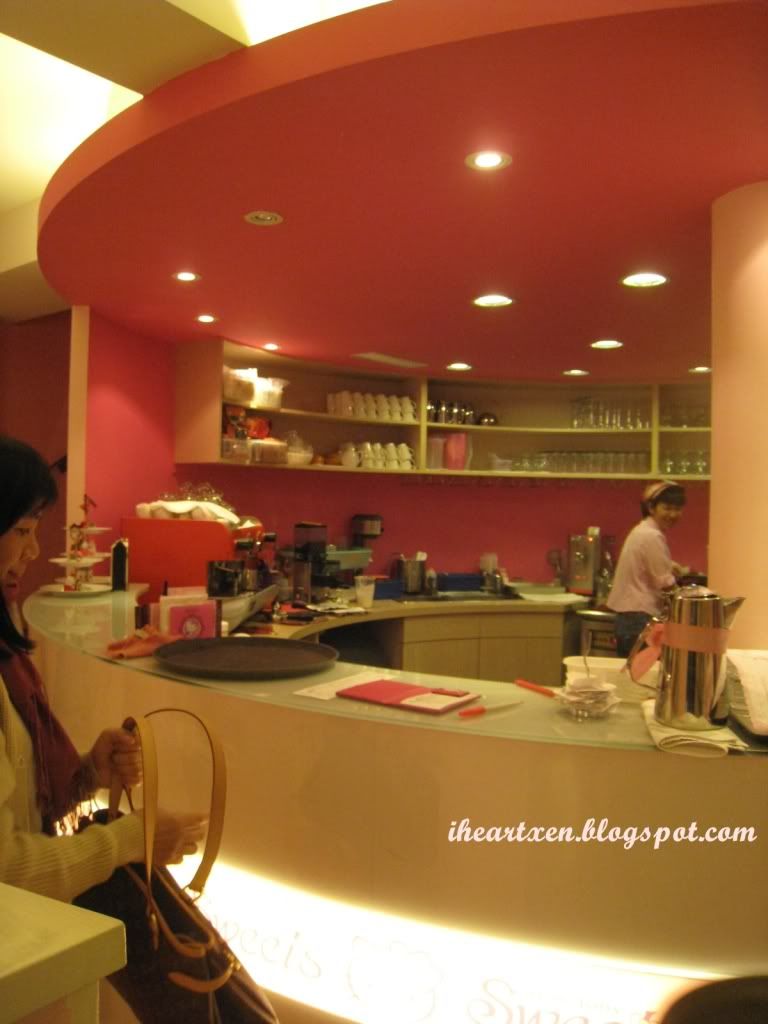 Drinks are made here..
The waitress finally led us upstairs after our agonizing 5 minute wait. I was getting a little worried that we would be turned away. We were given a nice booth! There was only one other diner upstairs but as soon as we finished placing our orders, the people started streaming in.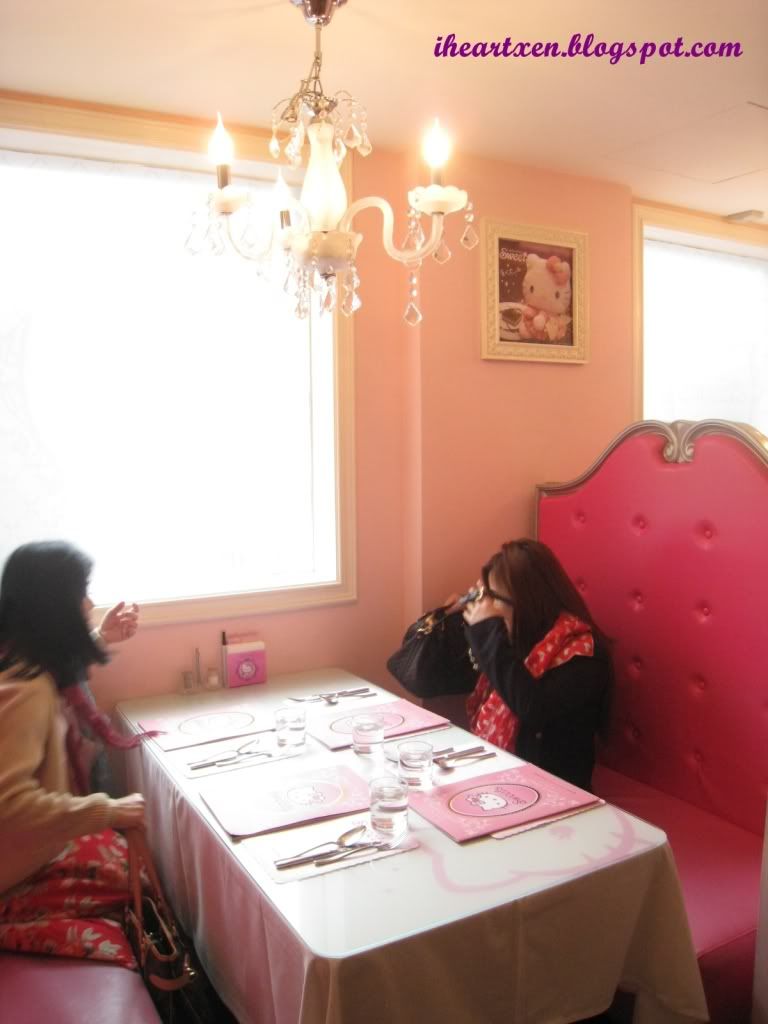 A very hungry Papa quickly flips open the menu..
Checking out the menu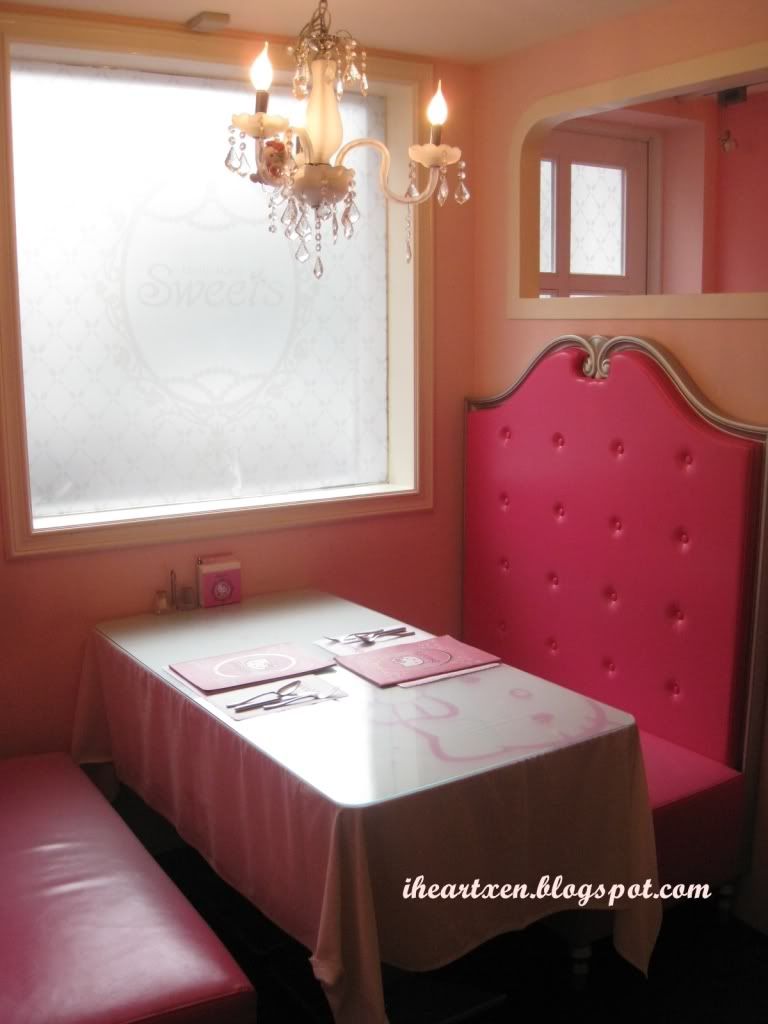 Booth behind ours
On the left
Centre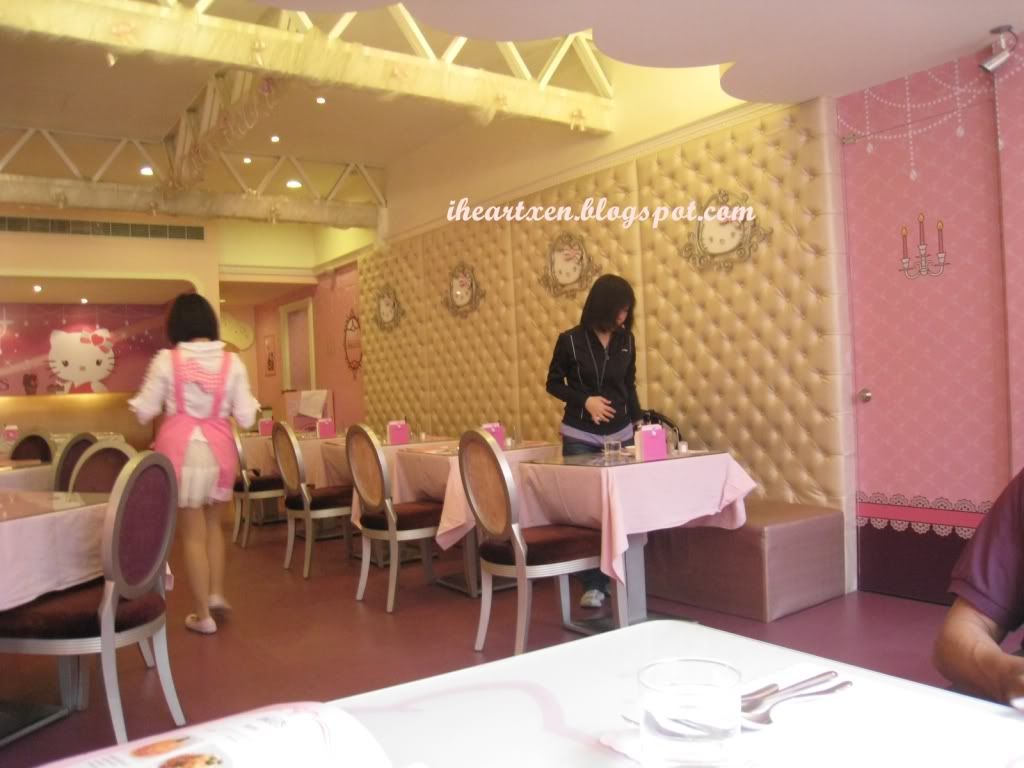 Tables on the right
Papa & Mama
Everything on the menu is written in Chinese, so we mostly relied on the pictures and pointed at what we wanted. In my limited vocabulary, I managed to ask her if they had sets for the day and to my surprise she said everything on the menu comes in a set! Surprise surprise! Most reviews I found online were of their cakes and tea so I had no idea what to expect for lunch. Their sets came with Soup of the day, a Salad, an Entree, our selected Main, a Dessert and a Drink! 6 items for the price listed under the picture? Heck, I was prepared to pay NTD400 (MYR40, USD 13) for the pasta ALONE!
Here's what we had: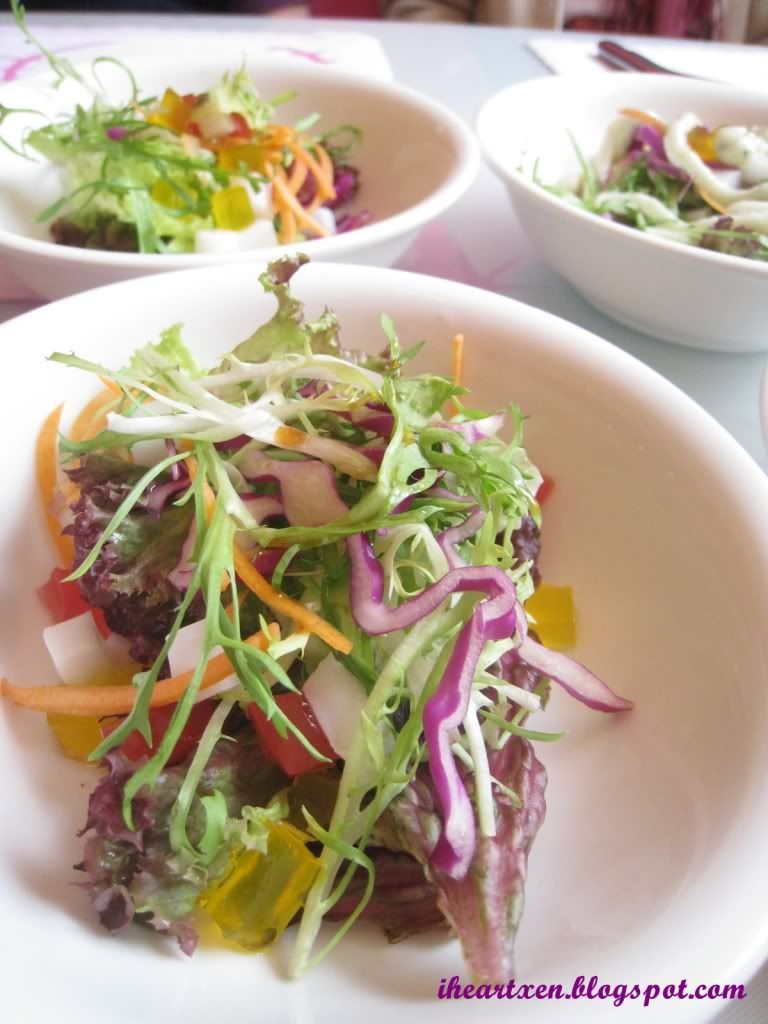 First up, Salads- there were 4 different dressings and it was too hard trying to understand the waitress so we took 1 of each. The little cubes you see in the salad are actually jelly. So cute!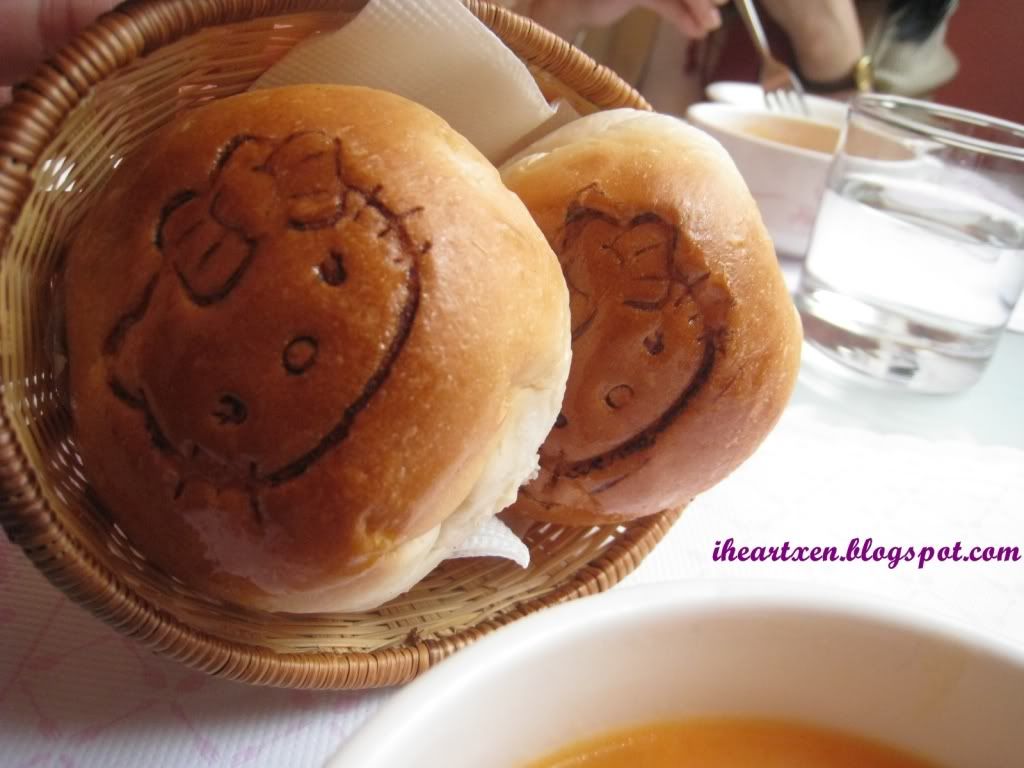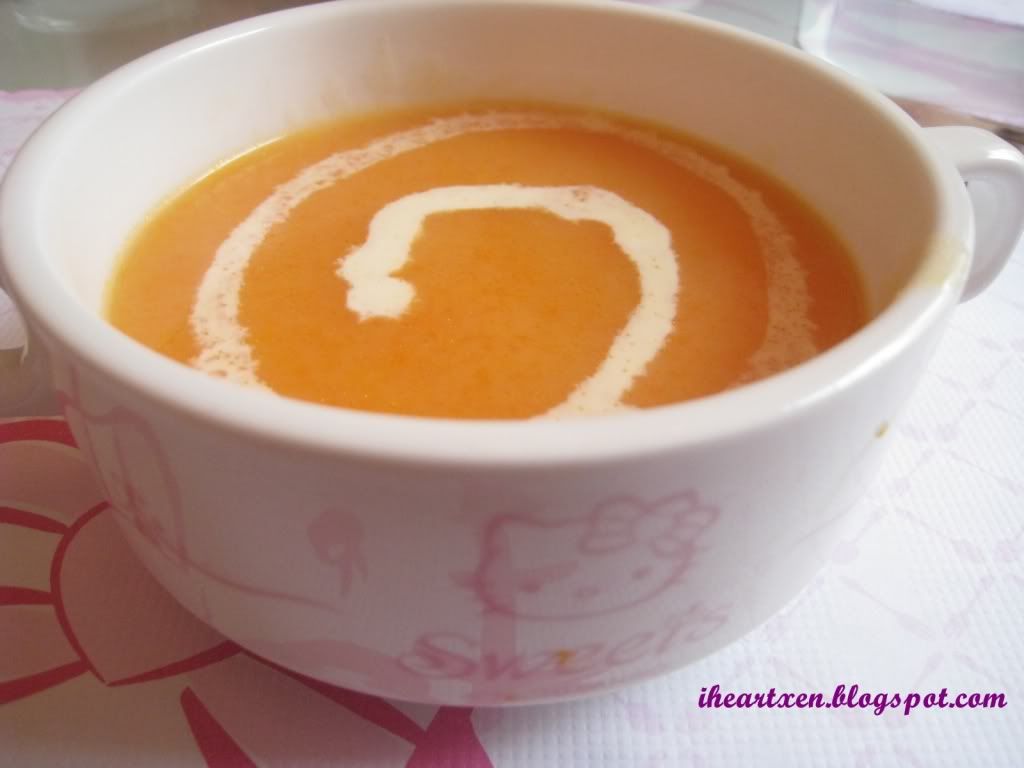 Soup of the day served with some bread, I couldn't tell what went in.. but there were bits of carrot, a touch of cream, maybe some pumpkin?
Our entrees which we shared:
Mama's roast beef
Papa's pan seared pate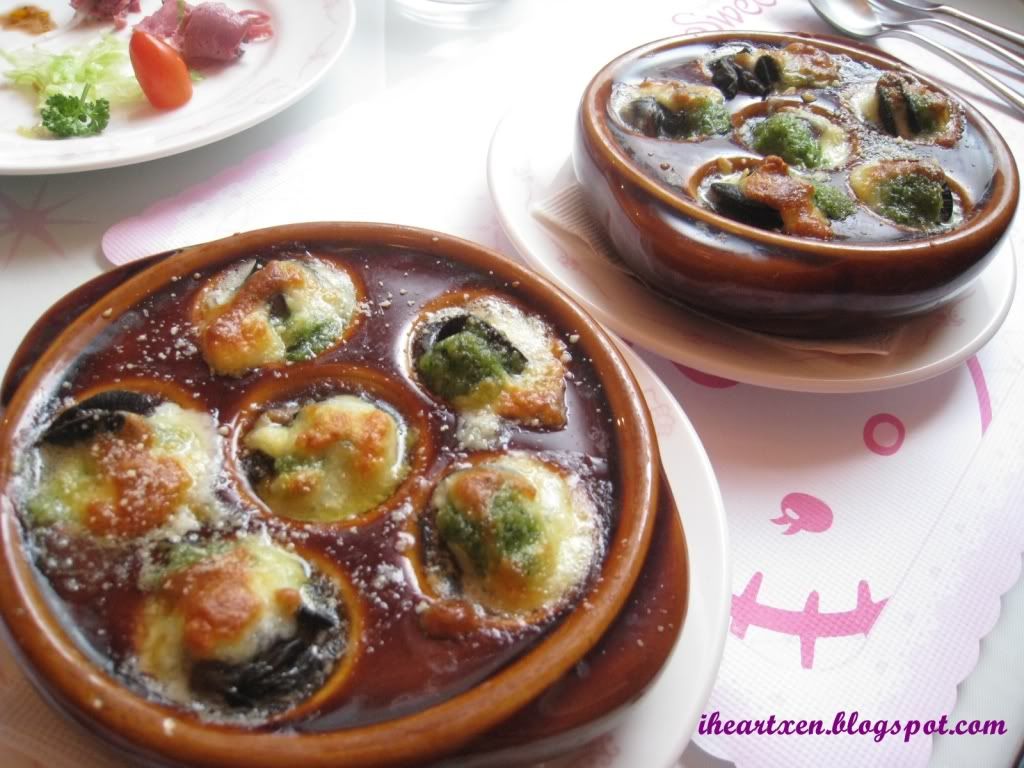 Two serves of escargot for Meimei & I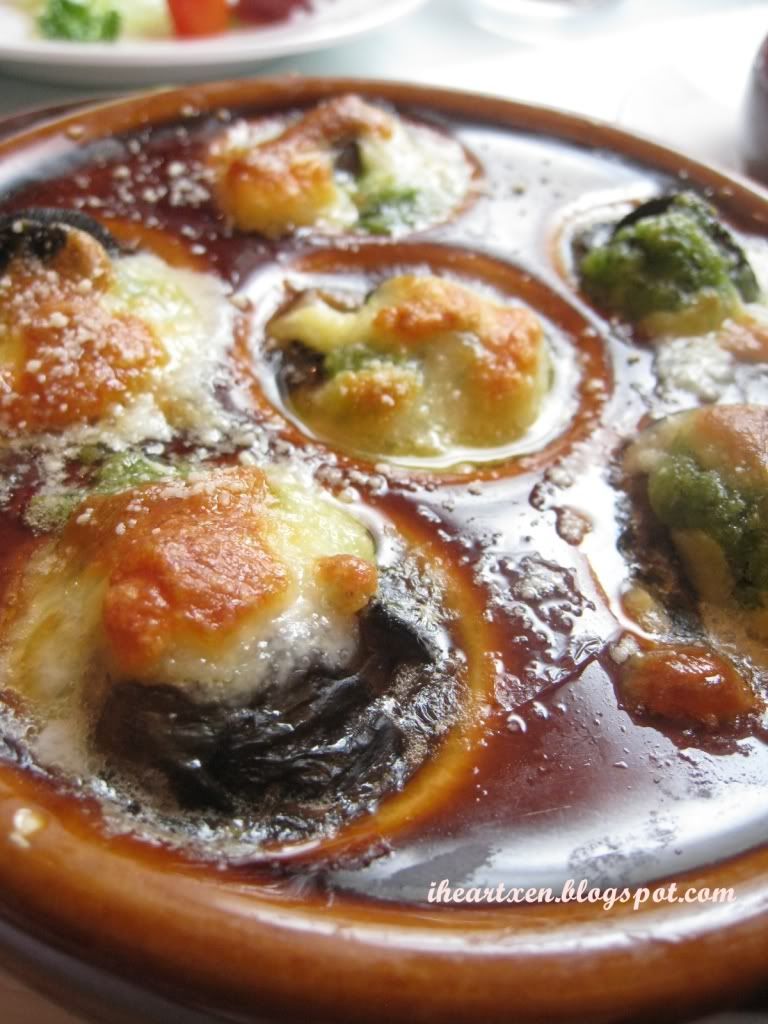 Yummy, garlic-ey morsels

Our mains which we gobbled up: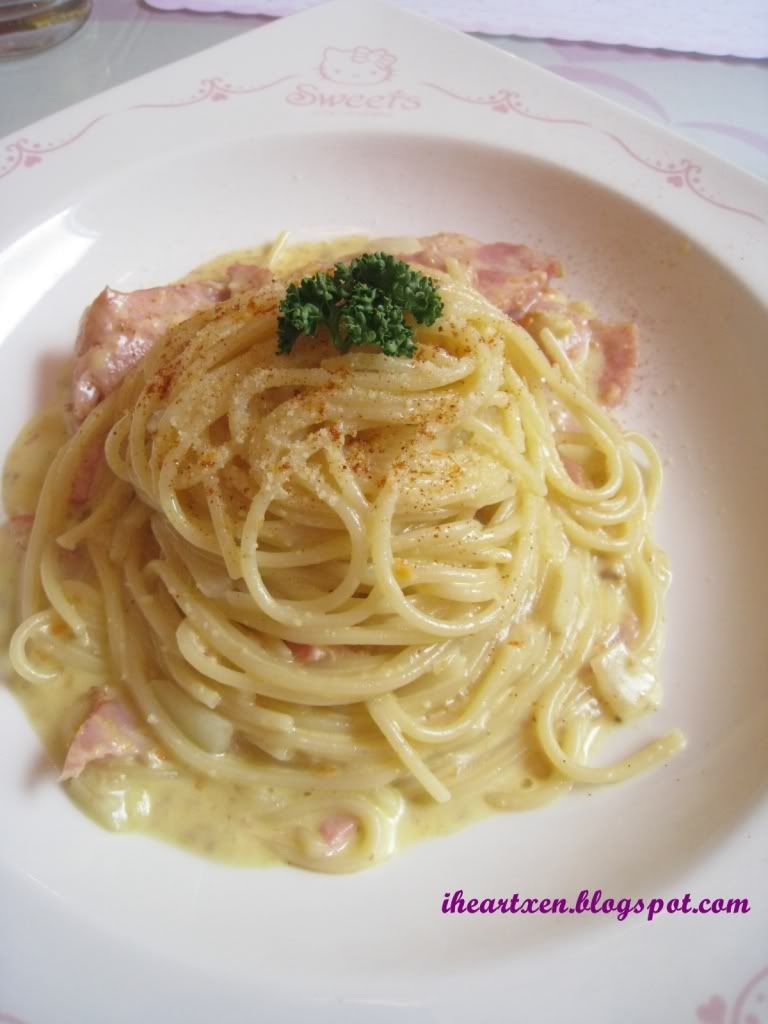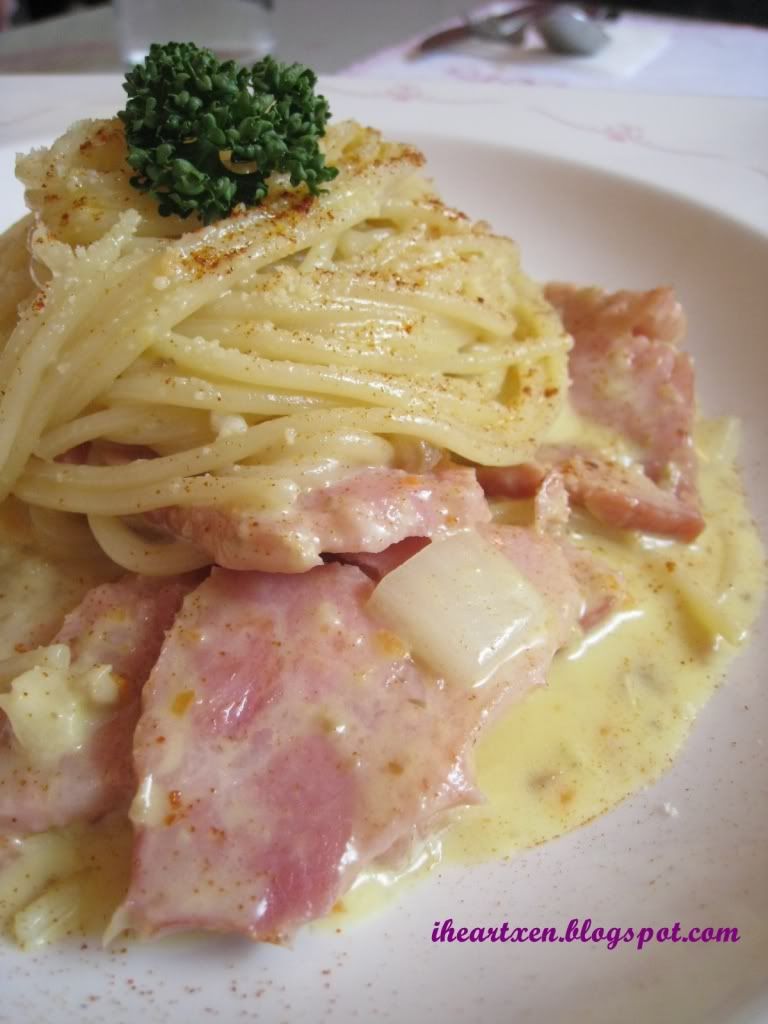 Bacon pasta
This was so good, I finished it all. I usually can't finish a cream pasta by myself but this was light, tasty, lots of bacon. YUM!
Pork knuckle
Papa was surprised with the size of his Main but demolished everything. Even he thinks it's value for money, considering how many dishes we were getting.
Salmon Pasta
Meimei's pasta which was YUM too. Most cream sauces taste this same but hers and mine tasted different. Chockful of Salmon bits too.
Cod fish/similar tasting fish! Haha
The size of my Mama's face!
Flakey, moist, juicy /slurp
This was the BEST dish of the lot! It tasted very similar to Cod fish but I am not sure if it is, but for the price we paid, it is a huge slab of fish.
Strawberry jelly all round
Can you see the strawberry seeds?
While my parents opted to have coffee (choice of coffee, iced tea and I can't remember what else) after their meal, my sister and I topped up and selected our drinks from the regular menu..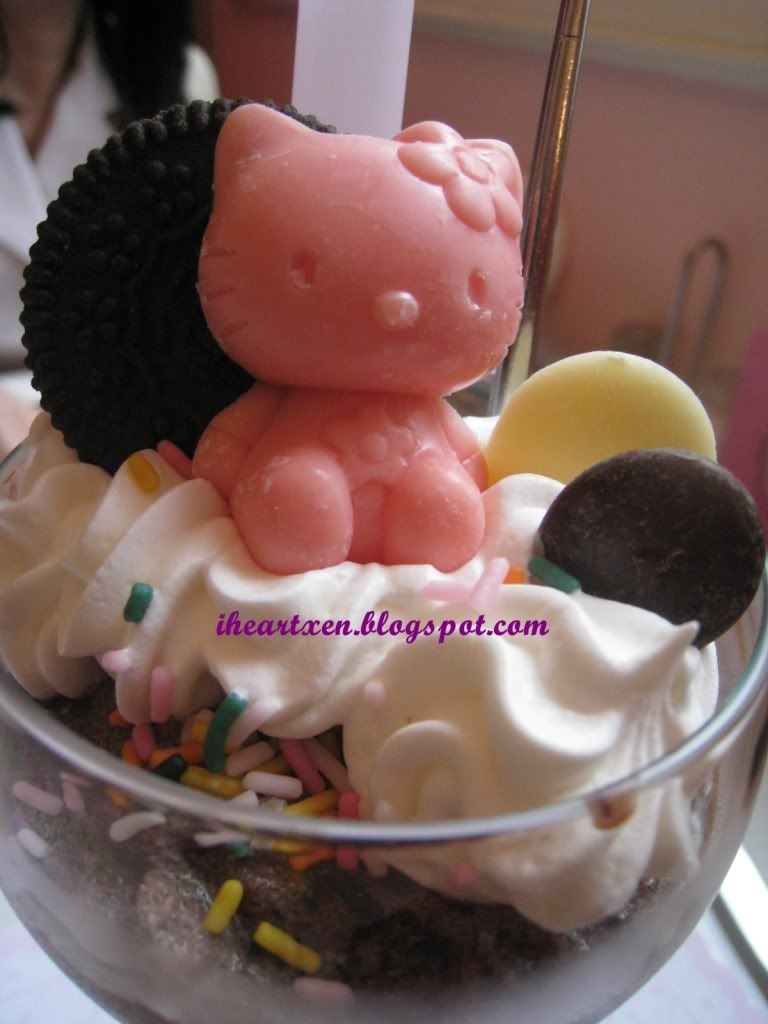 The washroom
Our bill..
Surprisingly affordable!
All in all, I was very happy with my visit to the Hello Kitty Sweets Cafe ♥ . It was definitely value for money, even my parents think so! The Cafe serves DECENT courses if I may add- the food wasn't just "so-so" it was actually GOOD. When I visit Taipei again I would definitely make time to dine here again.
My tips to visiting the Hello Kitty Sweets Cafe in Taipei, Taiwan:
1. If you do not wish to make a reservation, do arrive early (before 12pm).
2. Getting there is no hassle, most cab drivers know their way around as it is located in the city.
3. Remember to take away some cakes! We forgot T__T
1.Their official
website
, complete with
menu
, promotions and everything you need to know. You can use Google Translate like me if you do not read/understand Chinese. However the Menu can't be translated but there are pictures.
2. Opening hours: 11.30AM ~ 10PM
Hope this post was helpful!
**All pictures have been watermarked for ownership. I do not want my pictures to be *right-click-save* and re-posted as someone else's. While googling for reviews, I came across many sites which used the SAME picture, and it came from someone's blog which I also stumbled upon. These pictures were taken by me and my sister so if you would like to use our pictures, please credit us.